Who's Rod?
Apart from being your host at La Colle, Rod is a world traveller and was nearly born on a plane, when those sort of things didn't worry the airline staff so much and you were given a free ticket for life if you were born on board!
La Colle has been a passion of Rod's for some time and it has been lovingly restored by him for more than 10 years. He bought it as a complete abandoned and ruined hamlet without water or electricity in the mid 90's and now it thrives as a well-established country estate offering the right mix of modern life coupled with real French Provencial country living (log fires and all).
Rod has lived and worked in many different countries and adventure is one side of life that he is well used to. Born in Bangkok, and lived in the : UK, Canada, Australia, Spain and France.
He is bi-lingual and is well versed in the French way of living and, by the way, is a talented chef on his own! So you might be lucky enough to get some fusion cooking from his Asian and French sides.
Rod has had a long history in the creative arts; having been owner and CEO of International marketing companies, responsible for the creative process as well as a multitude of other sectors of the business.
He is well versed in setting up photo shoots and has worked with a hoist of professional photographers at the top of their areas.
A glance at his client list reads like a portfolio of top blue chips, too large to publish here.
Although his main professional areas are in International Marketing, Rod has also spent 6 years in International Formula One Motor racing providing hospitality services for the racing elite with the Wilkie's in the early 80's.
He was on the first ever rally from Paris to Moscow, which then went on to finish in Beijing in 1992. They provided the then Moscow political elite hospitality at the rally staging point in The Red Square.
He has also been on numerous Le Mans 24hr races providing hospitality for the international press, business people and celebrities.
His racing and professional career has led him all over the world and he is also passionate about travelling and loves photography!
-
Some words from Rod Cook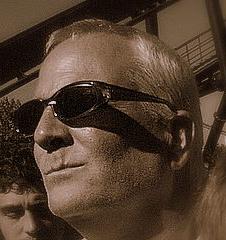 It's true I have had a very extensive career, which I hope will continue for many years too come and I'm fully committed to helping you enjoy the full experience in this part of Provence.
We have lined up a very personal adventure, peppered very much from our own experiences, but the adventure is not just photographic or creative as I know all too well that you need to be well-fed and sometimes surprised by the day's experiences to make this a memorable trip for you!
For those of you who would like to just come along for the experience we have a fabulous pool to relax by and a wonderful area to discover. You are also welcome to try out either of the creative day's with us (space permitting in the vehicle).
In our emails please feel free to let me know of any special areas which you would like me to pay attention to and I'll very much try and accommodate this for you.
Rod Cook
Provencial Photo Safari - What's next?
Creative's at La Colle - Contact details
Note: Photos on this site! Have all been optimised for the internet and therefore have a massive quality drop to ensure readability by all different types of internet access. All of the shots published on this site unless otherwise stated are Copyright © 2016 by Rod Cook.